Victorville Uber and Lyft Accident Lawyer
If you have been in a rideshare accident in Victorville, you'll need legal representation.
Our Uber and Lyft accident lawyer will advocate for justice on your behalf.
Lyft and Uber Car Accident Lawyer in Victorville, CA
While each Uber and Lyft driver does need to have a valid CA driver's license to work for the rideshare companies, they are not trained professionals. Uber's Safety Report indicates its drivers are involved in fatal traffic accidents every 0.57 million miles as compared to the national rate of 1 fatality for every 1.13 million miles traveled.  In other words, deaths resulting from Uber/Lyft accidents occur at a significantly higher frequency than those traveled when not in a rideshare vehicle.  Add in the fact that a University of Chicago study revealed the rise of these services hiked car accident fatalities by 3%, and there is even more reason to be wary of relying on an Uber or Lyft driver to get you from point A to point B.
There is a common misconception that rideshare services are inherently safe simply because a professional driver is behind the wheel.  However, when you take a close look at the numbers that quantify the safety (or lack thereof) of rideshare experiences, it becomes increasingly clear that rideshare trips are not as safe as most assume. If you were injured in an Uber or Lyft accident, contact the legal team at Rockview Accident Lawyers. Our law firm offers a free consultation and will work to get you the compensation you deserve.
Why Our Uber/Lyft Accident Lawyer is the Best Option
The lawyer you select for legal representation in your personal injury claim must be experienced in handling Uber/Lyft accident claim, as well as knowing how to aggressively negotiate with the insurance company. A qualified Uber and Lyft accident lawyer in Victorville will handle all the legal components, so you can focus on your healing and recovery.
At Rockview Accident Lawyers, our sole purpose is to help clients obtain financial compensation to offset their losses and help make them whole again. Aside from obtaining medical attention, the most important thing you can do in the aftermath of your rideshare accident is to choose an Uber and Lyft accident lawyer.
Our attorneys will negotiate your personal injury claim with the aim of securing maximum compensation to account for all damages that resulted from the Uber or Lyft accident. We also have extensive experience litigating cases, so if necessary, we will push for justice in a court of law.
Car accident victims should know that they have nothing to lose and everything to gain by meeting with our legal team.  During your free consultation, tell our Uber/Lyft accident lawyer how the accident occurred, and we will utilize the available evidence to build your personal injury claim. In addition, our law firm will analyze the medical report after the crash and review the police report.
The Uber/Lyft accident lawyers at Rockview Accident Lawyers work on a contingency basis. This means you won't pay a single dollar unless we win a settlement or court award on your behalf.
The Many Benefits of Hiring a Victorville Rideshare Accident Lawyer
Lyft and Uber are backed by an insurance company that also works with corporate defense attorneys. They will be more than willing to engage in a legal battle when accident victims file a claim against the ridesharing businesses.
However, if you have an Uber or Lyft accident attorney in your corner, you will be better equipped to take on the insurance company. Our law firm will analyze the details of each case to shape the best possible legal strategy. This ultimately allows us to recover maximum compensation for Uber/Lyft accident victims.
If the initial settlement offer is low, we'll level with you and advise if it's better to counter, settle, or pursue justice through personal injury lawsuits.  We, at Rockview Accident Lawyers, will represent you throughout negotiations and court hearings until justice is served from the insurance company.
The best Uber and Lyft accident attorney is not intimidated by the prospect of going up against rideshare lawyers in court.  The only potential problem in the context of pursuing justice is the fact that California provides a brief two-year window to file personal injury lawsuits. If accident victims miss this deadline, they can no longer recover compensation. Therefore, contact our personal injury lawyer as soon as possible, so we can get the ball rolling on your case.
How Much Uber/Lyft Accidents Are Worth
Uber's United States Safety Report indicates nearly 2% of its trips involved adverse incidents including accidents.  Though 2% might not seem like a significant percentage, it is meaningful when you consider that Uber and Lyft drivers average more than three million trips per day in the United States.
The bottom line is everyone injured in a ridesharing accident that resulted from the negligence of an Uber/Lyft driver or from the ridesharing companies should absolutely receive fair compensation.  However, the specific settlement or court award resulting from your car accident will be unique to the facts of the collision.
Each Uber and Lyft driver is required to carry their own personal auto insurance policy. While their insurance coverage will vary, Uber and Lyft are required to carry $1 million in liability insurance. This insurance coverage is utilized when an Uber accident or Lyft accident is so severe that the driver's personal insurance coverage cannot cover all of the costs in property damage and losses.
In a personal injury case involving a rideshare vehicle, the value of your specific rideshare accident claim will be determined by:
Medical bills
Future medical treatment
The extent of your injuries
Lost wages from missing work
Pin and suffering
Loss of enjoyment of life
Furthermore, if the Uber or Lyft accident results in death, our car accident attorneys in Victorville will pursue justice and file a wrongful death lawsuit. Every accident is different, and the best way to determine its value is by getting in touch with our knowledgeable legal team and scheduling a free case evaluation.
Get a free consultation today
Common Causes of Rideshare Accidents
Driver negligence is the top cause of car accidents in general.  Negligence is a word used by attorneys to indicate the failure of one party to provide due care.  In the case of a rideshare accident, Lyft drivers, Uber drivers, or a third party could be found liable. Some of the top causes of rideshare accidents include the following: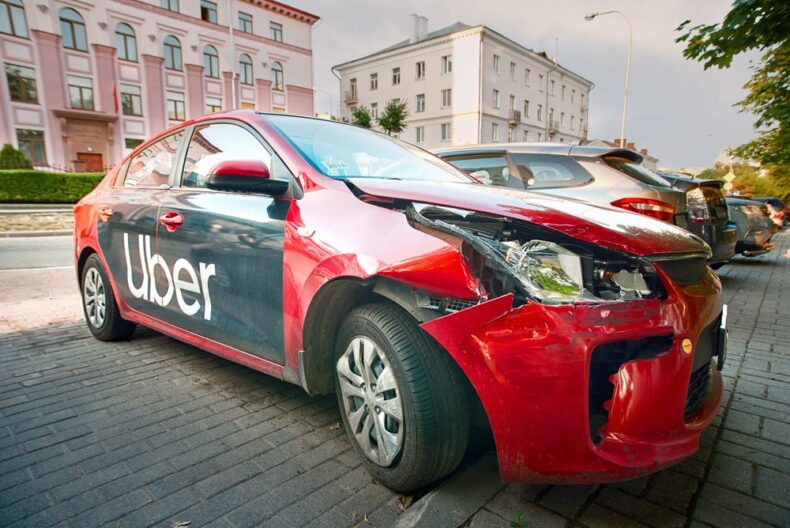 Mechanical issues – Rideshare vehicles must be properly maintained to operate in a safe manner. Insufficient maintenance or delayed maintenance often contributes to or directly causes crashes.
Inclement weather – Rain, hail, sleet, fog, and other poor driving conditions might fully or partially cause a collision.
Driver distraction – The radio, a phone, or another distraction can easily cause an accident. Distracted driving is one of the leading causes of crashes.
Fatigue – Driver fatigue as a result of working too many hours or the use of sedatives can lead to a deadly crash.
Recklessness – Anytime motorists disobey traffic laws or are not driving cautiously, they are endangering themselves and others around them.
Determining Liability for the Uber or Lyft Driver
Liability in a rideshare accident can be attributed to the Uber or Lyft driver and/or other parties.  Other drivers, auto mechanics, automakers, and even motorcyclists can be fully or partially liable in an Uber accident or Lyft accident.
The challenge for an Uber or Lyft passenger lies in proving another party is at fault for the accident.  Thankfully, Lyft and Uber have million-dollar insurance policies that often apply to collisions involving their vehicles.  However, it must be noted those who were hurt while working for a rideshare will require separate legal action.  Furthermore, it is also worth noting Uber/Lyft are not always legally accountable for the actions of their drivers as those drivers are considered independent contractors.
Let our Victorville car accident lawyer spearhead your quest for justice.  What matters most is that we prove that the duty of care to accident victims has been breached, meaning the driver or rideshare company acted negligently. You deserve fair compensation for your Lyft/Uber accident, and we can help you recover what belongs to you. Schedule a free consultation to learn more.
Common Injuries of Accident Victims
Uber and Lyft accidents have the potential to be just as painful and require just much medical attention as injuries stemming from other personal injury accidents.  Here is a look at some of the most common serious injuries:
Broken bones – Fractures and bone breaks are common in a car accident and can occur anywhere in the body, causing long-term issues if an accident victim does not seek medical attention.
Traumatic brain injuries – Also referred to as TBI, trauma to the brain and skull from an auto accident affects cognitive functions, behavior, mood, motor skills, speech, vision, and may even result in death.
Spinal cord injury – An injury to the back or spinal cord's vertebrae can result in paralysis or lifelong pain. Medical expenses to treat a back injury are very costly and may require extensive surgery.
Whiplash – Minor or large, a collision can cause the head to jerk forward, backward or to the side, resulting in whiplash. Even soft tissue injuries qualify as serious injuries and have the potential to require ongoing medical care.
Leg/knee injuries – As an Uber/Lyft passanger, customers typically sit in the rear of the vehicle. As a result, the impact of aggressively slamming against the seat in front of them can lead to severe damage to the lower body area.
Organ damage – The sheer impact of a Lyft car accident or an Uber accident can cause internal bleeding to various parts of the body including central organs, as well as the brain. If left untreated, death may result.
Amputation – Sometimes serious injuries are so severe that amputation of a body part becomes necessary at the accident scene. In other cases, an accident victim may experience complications with their injuries, leading to the removal of a bodily extremity.
The at-fault driver, whether that be the Uber or Lyft drivers or other drivers involved, is legally responsible for reimbursing injured victims for their medical bills. Each driver's personal insurance policy usually has bodily injury coverage. However, each car insurance policy can vary and many motorists may are underinsured. If this is the case, then you will need a knowledgeable lawyer on your side to fight for you and recover damages on your behalf.
Our Lyft/Uber accident attorneys at Rockview Accident Lawyers have the qualifications and resources to effectively carry out a personal injury lawsuit against all of the at-fault drivers involved. Schedule a free consultation with an experienced attorney today and allow us to help you with your case.
What to Do After a Rideshare Accident
Your actions after the Lyft or Uber crash in Victorville have the potential to determine whether you receive compensation.  Ideally, you will contact 911 for emergency medical treatment.  The treating medical professional should provide a detailed write-up of your injuries in a medical report.  Also, be sure to reach out to the police so a police report can be created.  Both the medical report and report can be used as evidence in court.
You will need to document property damage and all other proof that will indicate you suffered losses. Use your phone to take pictures and videos of the accident scene, including the Uber or Lyft vehicle.  Snap pictures of your bodily injuries, the intersection, and any other crash details.  Take down the names and contact information of the other parties involved in the crash as well as the information of eyewitnesses.
Additionally, make sure to gather the insurance information from the Uber/Lyft drivers, as well as any other driver involved. The insurance policy is vital when it comes time to file a claim. To avoid complicating matters and improve your chances of winning your case, it is highly recommended to consult with a Victorville Lyft accident lawyer.
Contact Our Lyft and Uber Car Accident Lawyer in Victorville
Our rideshare accident attorney in Victorville is a phone call away.  Contact Rockview Accident Lawyers after your rideshare accident, and we will get right to work reviewing the facts of your case.  Our Lyft/Uber accident lawyer will represent you in settlement discussions, as well as in the courtroom.  Schedule your no-cost, no-risk case evaluation here.