Recover Your Losses After an Accident
After a car accident, you may have property damage, costly medical bills, or missed work resulting in lost income. We understand the after-effects of a car accident can be devastating. Whether the at-fault party was speeding, drunk driving, reckless driving, or failed to yield, we will hold them accountable. It's invaluable to have a personal injury lawyer on your side to help you achieve the best results in your personal injury claim. A car accident lawyer will preserve your personal injury case evidence, have your best interests in mind, and act to maximize your compensation.
Personal injury claims can help auto accident victims recover damages such as:
Property damages

Lost income

Medical bills

Lost earning potential

Wrongful death
Our Victorville personal injury lawyers will act to protect your financial, physical, and emotional well-being. We are focused in personal injury law and offer the legal services and strategic plan you need to succeed. Get a personal injury attorney with a proven track record who has your best interest in mind. We seek justice for personal injury victims and hold the at-fault driver responsible. If you have been in a car wreck and need legal counsel, contact a car accident lawyer today.
Get the Medical Treatment You Deserve
After a motor vehicle accident, it is crucial to seek immediate medical attention for any injuries you may have sustained. If you have sustained minor or severe injuries and need medical treatment, we can help. Our Victorville office has connections to some of the best medical institutions across San Bernardino County. We can refer you to top medical professionals in Victorville, CA.
Our personal injury attorneys understand how medical expenses can quickly become an overwhelming financial burden. Admittedly, the cost of medical treatment has been on the rise. The National Safety Council (NSC) estimates that when there is an evident injury caused by a car accident, medical expenses average around $29,000. The average cost of a non-fatal disabling injury resulting from a car accident is $101,000. Don't let medical costs interfere with your health. If you have already begun treatment or are considering seeing a doctor regarding your injuries, we've got you covered. Get the medical care you need in Victorville, CA.
Our law firm operates on a contingency fee basis. This means you pay no legal fees until we win your car accident case. We've got you covered, so you can focus on healing during this difficult period. Our award-winning law firm will connect you with a seasoned personal injury lawyer who will work with you on a 1-on-1 basis and guide you throughout your accident claim.
At Rockview Accident Lawyers, we maintain a 99% success rate. Our law firm has recovered millions of dollars in settlements for our clients. We are dedicated to helping personal injury victims recover the compensation they deserve. An experienced personal injury attorney can recover much higher compensation than someone unfamiliar with personal injury law.
At Rockview Accident Lawyers, our law firm will offer the support and guidance you need throughout your car accident case. From facilitating communication with your insurance company to helping you recover from common car accident injuries, each auto accident lawyer from our law firm provides superior legal representation. Other motor vehicle accidents we handle include:
Personal Injury Lawyer
Personal injury victims need a seasoned Victorville personal injury attorney on their side to recover compensation for their losses.
Truck Accident Lawyer
If you have been in a truck accident, it's best to contact an experienced Victorville truck accident lawyer. Your attorney will play a pivotal role in developing a legal strategy that helps you win a just settlement.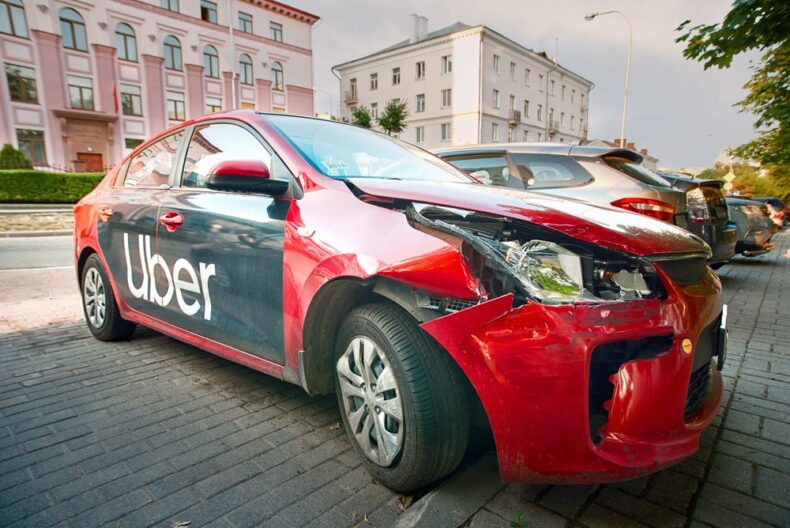 Rideshare Accident Lawyer
If you have been in a rideshare accident in Victorville, you need legal representation. An Uber and Lyft accident lawyer will advocate for justice on your behalf.
We Fight for Personal Injury Victims
Our seasoned personal injury lawyers are ready to fight for accident victims. We work hard to recover full compensation for personal injury victims. We want our clients to be able to focus on healing during this difficult period in their life.
We deal with the insurance company, so you don't have to negotiate with insurance adjusters. If you have medical bills, suffered property damage, lost income, or your earning potential was negatively affected you have the right to seek justice. With an experienced team of auto accident attorneys on your side, we can help you recover the maximum compensation. 
A car accident can be life-altering for an injury victim. Your physical, emotional, and financial well-being is important to us. Our car accident lawyers are dedicated to helping personal injury victims heal and move forward with their lives. In addition, if the insurance company is not willing to offer a fair settlement, Rockview Accident lawyers is ready to go to trial to achieve your desired results.
Contact a Victorville Auto Accident Lawyer
Victorville, known for the famous Route 66, is a growing city in San Bernardino County with over 135,000 people (2021). Route 66 has been around for over a century and was one of the original highways in the United States Highway System. There is a Route 66 Museum located on D Street in Victorville featuring historical memorabilia highlighting the states and cities the highway passes through. Also located in Victorville, CA is the Mojave Narrows Regional Park which is an impressive regional campground offering fishing opportunities, a children's playground and water play park, trails for walking and biking, and more.
Our experienced team of car accident lawyers works with you individually, on a 1-on-1 case basis. Our law firm maintains a 99% win rate and knows how to approach each auto accident case with a strategic legal plan of action. Client satisfaction is our top priority. We know how to handle each insurance company and misleading tactics that may use on injured victims. Our personal injury attorneys preserve the case evidence, protect your legal rights and act in your best interest. Call 760-628-081 to get in touch with a personal injury lawyer in Victorville, CA. Schedule a free consultation with a car accident lawyer today.